Create Your Own Beautiful Designs
​​Now preparing for our bi-monthly collector's series event, LoveMyButtons.com seeks a button design and asks the fans to participate in a button contest. The contestant whose design is selected receives 50 buttons with their design for distribution/sell (total minimum value $50.00) of the finished product. The design will be used in promoting pinback button collecting. A strict 500 pieces production will be implemented which includes the prize. Only 450 will be available for purchase from
www.lovemybuttons.com
.
All entries must be received by the 15th of the current month to be included in the following bi-monthly drawing. The winner will be notified by the 1st of the month and credited for their design.
Rules & Guidelines:
1. The design should be simple enough to be reproduced easily on a 1.5 inch round button.
2. The design must be original work, although clip art may be employed in the design. Elements of our logo above may be incorporated in the new design but it is not required.
3. A hard copy rendering by mail should be submitted to LoveMyButtons.com, 14529 89th Ave, Jamaica, NY 11435-3617 by the 15th of the month. It can also be emailed (JPEG or PDF format only) to
cs@lovemybuttons.com​
. Judging will be blind, so do not write your name on the artwork (you are welcome to include your signature or an identifying mark on your design). Please write your name, address, telephone number, and email address on a separate sheet of paper accompanying your artwork or if sent electronically, in the body of the email but not on the attachment.
4. All submissions become the property of LoveMyButtons.com and will not be returned. As such, LoveMyButtons.com reserves the right to display all contest submissions in any manner it so chooses.
5. LoveMyButtons.com will acquire all print and electronic rights to the finished design, including the right to alter it in any way to conform to graphic requirements for reproduction.
6. LoveMyButtons.com reserves the right to reject any contest entry that is judged to be inappropriate or in violation of the contest rules.
7. The winner will receive a prize of 50 buttons and be featured on our home page. The winner will be announced no later than the 1st of the month.
8. The contest may be cancelled without notice. LoveMyButtons.com reserves the right not to select any of the entries if none are appropriate for use.
​
9. Multiple entries accepted.
* use a cylinder to draw a circle as a guide for your art, keep in mind that the outer edge will be folded backwards during production and will not be visible from the front.
---
​Deadlines
---
​Did you find a LoveMyButtons.com Golden Button?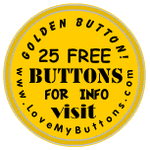 If you found one and it led you here, congratulations!
As the finder, you've won 25 FREE standard 1" color buttons of your original design and 10% off your first order (any style).
Make some for your band, for your store, display your original art or photos of your cat. Whatever you want to see on a button.
Send us an e-mail for more info on redeeming your 25 FREE buttons at
cs@lovemybuttons.com​
. Be sure to include the code from the back of the button!
Didn't find one yet? Keep an eye out, look high and low, you never know where they'll be...
​*All free or promotional priced buttons may include the LoveMyButtons.com web address on the bottom back ring of each button in addition to your own URL or message.
Paid orders will not include our URL.